TCES Home Learning - A Response to School-Based Anxiety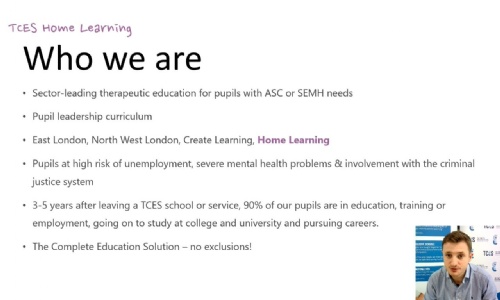 In early December, The Complete Education Solution (TCES) hosted its first webinar for educational professionals, parents, carers and local authority representatives alike.
The webinar's purpose was to give attendees an insight into our new Home Learning service which launched earlier this year. The service meets the needs of children and young people between the ages of 5 and 19 who are currently without school-based SEN provision, either in the short, medium or longer term.
Areas that were discussed included; barriers to school attendance and how home learning can alleviate these barriers, our goals for the programme, what makes us different from other solutions, what the service offers and provides for young people, the benefits of learning from home and ultimately why home learning is so effective, particularly during these uncertain times.
The webinar was followed by a Q&A session with CEO & Schools' Proprietor Thomas Keaney, Head of Home Learning Sandra Rey, and Therapy Lead and Senior Occupational Therapist David Coulter. The Q&A session brought up a number of interesting topics and queries that our guests had about the service and in particular, it created a discussion around the events of this year and the difficulties many parents and teachers have faced in keeping children engaged at home.
We were delighted by the number of attendees that participated in the discussion and we hope that the webinar facilitates further discussions between TCES and our audiences who share the common goal of providing sector leading therapeutic education for all young people with barriers to school attendance.
The feedback we received was overwhelmingly positive. One attendee described the webinar as 'inspiring' whilst another noted that it was 'very interesting and informative'. Moreover, our survey results demonstrated that 100% of respondents were either 'highly likely' or 'likely' to attend a future TCES webinar.
The success of this event has inspired all of us at TCES to host future webinars – we hope to see you at the next one!